6. Priyanka Chopra vs Katie Sturino
Priyanka Chopra always knows how to stay cozy while looking good. And while the days are still cold, we definitely need some of that. Katie's jeans are s lightly darker wash, and her trench is a little shorter, showing off those gorgeous calfs and ruched boots.
7. Tracee Ellen Ross vs Katie Sturino
A full-size pink jumpsuit isn't the easiest to pull off. Most people look like a janitor that's had Pepto Bismol spilled on them, but both Katie Sturino and Tracee Ellen Ross rocked this look with ease and finesse. This post was an attempt to get bigger girls out of their comfort zone and wear something a little intimidating – a jumpsuit with a major pop of color.
8. Jessica Simpson vs Katie Sturino
In this Jessica Simpson style inspo, we do enjoy the length on the original leather trench coat, we have to say we prefer Katie's version with the black and white snakeskin as opposed to brown, since it pulls the whole look together. A patent leather trench adds automatic confidence to a look.
9. Alessandra Ambrosio vs Katie Sturino
Not only did she recreate this Alessandra Ambrosio casual athleisure look with ease, but she added a chain to her phone, completing the tonal look. While the look is slightly tighter and more form-fitting than the Ambrosio look, we actually think it's more stylish and less gym-appropriate this way.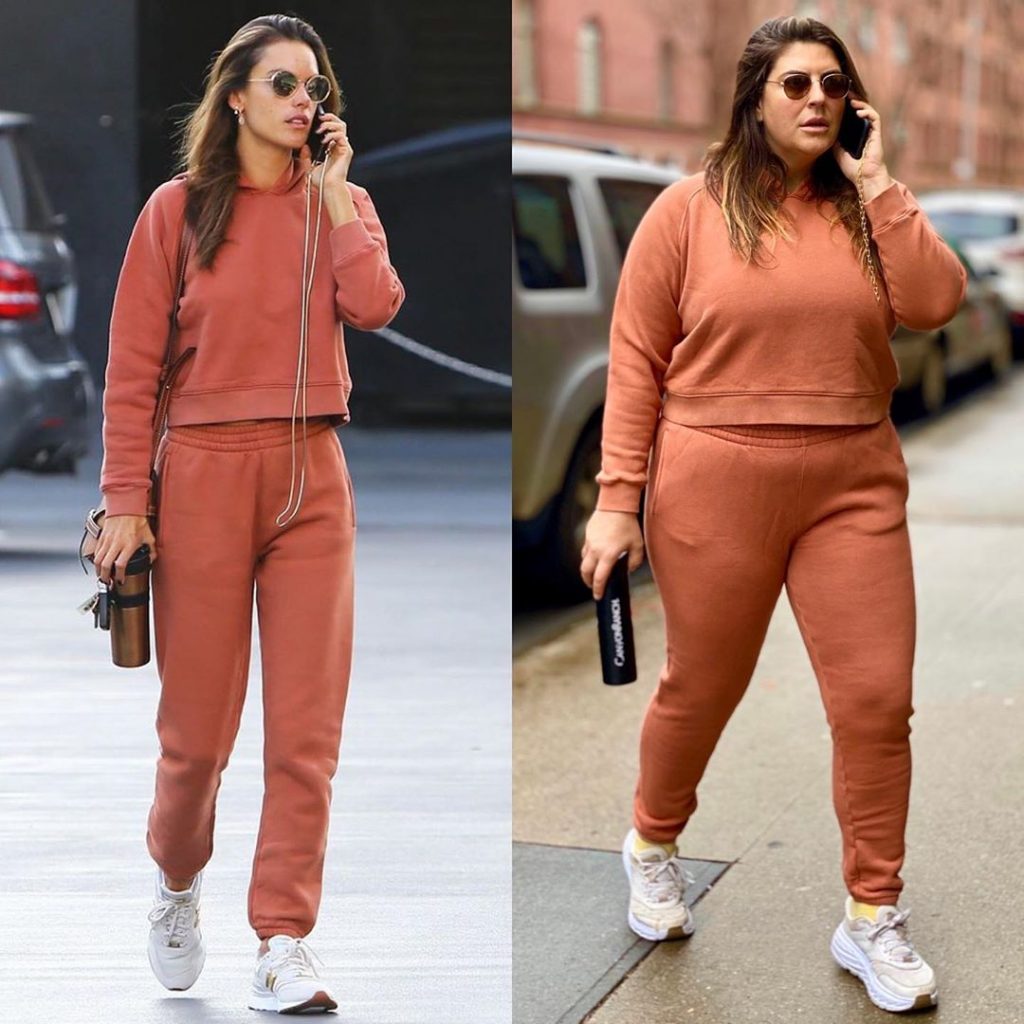 10. Amal Clooney vs Katie Sturino
There's nothing like an Amal Clooney inspired outfit to really get you motivated and unleash your inner feminist. This look is perfect for any season, blending ripped skinny jeans and a Moto jacket with a plain tee underneath. The jeans on Katie are AE, while the jacket is from Nordstrom.