Barcelona's talisman and football legend, Lionel Messi has been going under the needle to cover his several parts of the body with ink for quite a while. Messi took inspiration from his teammate Dani Alves who is known for his full body tats. Apparently, Messi was initially afraid of the pain so, he got his wife Antonella to get a tattoo first, and later, when he got his first tat, there was no stopping. The star has now collected some pretty impressive inks on his back, arm, and legs. Each of his tattoos holds a personal significance for him. Let's take a look at Lionel Messi's tattoos and their meanings.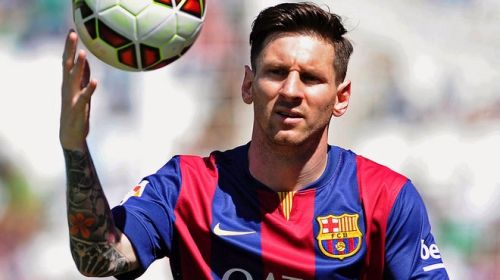 1. 'Mother's Portrait' Tattoo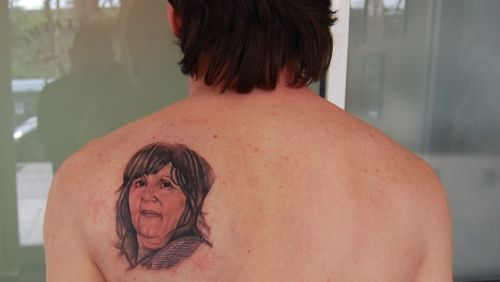 Tattoo: 'Mother's Portrait' Tattoo on the left side of his back.
Meaning: Our favorite footballer sure is a mama's boy. His very first tattoo is the portrait of his mother, Celia, on his back. Messi has always been very close to his mother and considers her as his lucky charm for helping him to achieve his dreams. He's a kind of family person, whose first priority is family. To express his love and respect towards his mother, he got the portrait of his mother inked on his back. His mother Celia and his brother Matias manage his charitable trust, 'Leo Messi Foundation' which was founded in 2007 to help children in at-risk situations.
2. 'HandPrints' Tattoo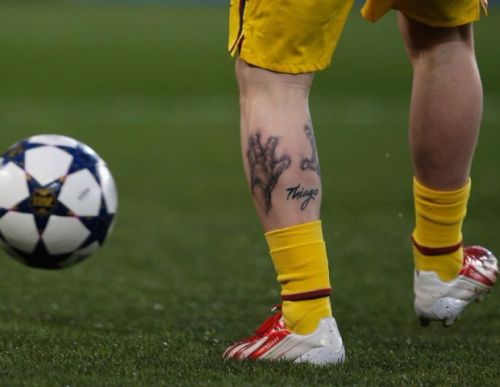 Tattoo: 'HandPrints' Tattoo on his left calf muscle.
Meaning: When Messi became a father for the very first time on November 2, 2012, he got the handprints of his newborn baby boy 'Thiago' tattooed on his leg. At that time, he even missed the training in order to be with Antonella at the time of the birth of their son. He announced the birth of  Thiago on his Facebook page by writing,
Today I am the happiest man in the world, my son was born and thanks to God for this gift! Thanks to my family for the support! A hug to everyone."
3. 'Thiago' Tattoo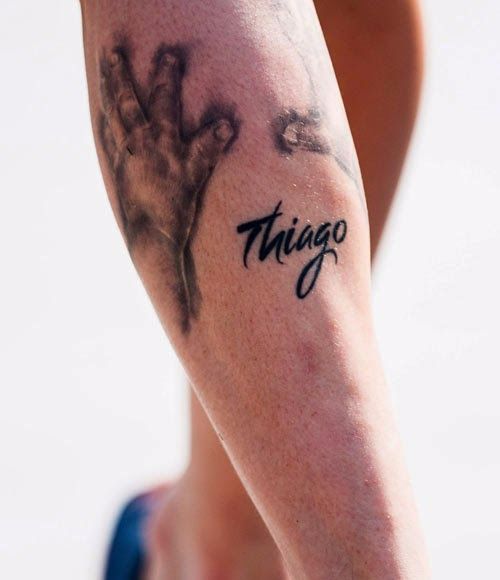 Tattoo: 'Thiago' Tattoo on his left calf muscles.
Meaning: Messi went under the needle once again to show his fatherly love and affection for his newborn son, Thiago. Initially, Messi got the handprints of his son inked within a beautiful heart shading tattoo. Earlier, there were rumors that the hands represented 'Maradona's Hand of God' goal, but he cleared the rumors that it is actually the handprints of his son by getting his son's name 'Thiago' inked within the handprints tattoo.
4. 'Football' Tattoo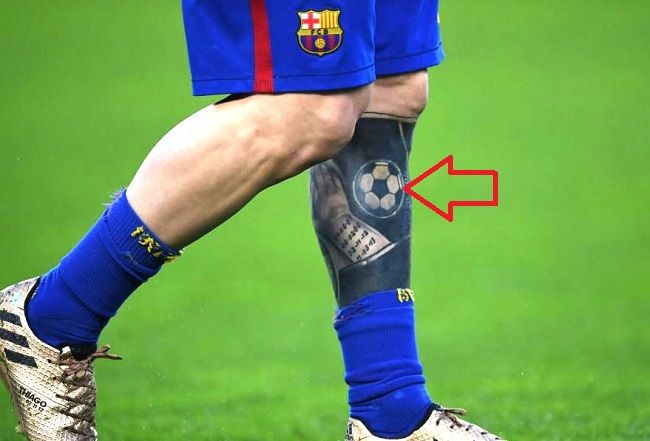 Tattoo: 'Football' Tattoo on his left leg.
Meaning: Messi developed a passion for football from an early age by playing constantly with his brothers and cousins. Today, Messi is considered the best football player in the world and one of the greatest players of all time. He has achieved all this only through his dedication towards his goals. To express his regard and feelings towards his sole passion, he got inked the football on his leg.
5. 'Jesus' Tattoo
Tattoo: 'Jesus' tattoo on his right arm.
Meaning: A tattoo of Jesus's face with a crown of thrones sits upon this football legends right arm. This tat declares Messi's religious beliefs and pays homage to it too.